Lynn R.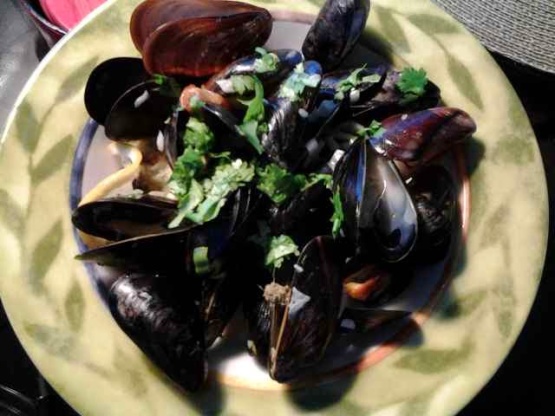 This came out of a Gourmet Magazine about 8 years ago. I have tweeked the amounts used in the original recipe to suit my taste and to allow 2 meal portions. The saying is for a meal portion to allow 2lbs of mussels per person. Or you may use this recipe as a nice appetizer for 4-5 persons. It has a yummy combination of taste and I would recommend a nice crusty bread served with it to mop up the lovely lemon cream.

I just mixed all the ingredients in the dutch oven,including 1/2 can petite diced tomatoes, added the mussels to the heated mixture and simmered (covered) for 8 minutes. DH and I ate THE WHOLE THING - THEN I fixed dinner !! We love them ! One caveat -- be sure to check for beards, even if the Package says "cleaned and ready to serve" - I didn't check, and it is like pulling little steel wool pads, after they have been cooked. Thanks, Expat
In a bowl stir together butter, garlic, shallot,1 tablespoon parsley, 4 tbsp lemon juice, and salt and pepper to taste.
In a dutch oven pan melt herb butter over moderate heat. Saute until veggies are tender.
Add mussels to pot and stir for 1 minute. Add wine, 3/4 cup cream, lemon peel, salt and pepper to taste. Stir well. Then lay lemon slices and tomato on top. Cover and simmer, until mussels are opened, about 8-10 minutes.
Remove Mussels to serving dish. Discard any unopened mussels.
In pot with mussel juices,increase heat to high and bring to boil. Boil down for 5 minutes or reduced by 1/3. Add remaining cream, 2 tbsp lemon juice and parsley. Boil one minute. Pour juice over top of mussels in serving dish.
Serve mussels immediately.