ImPat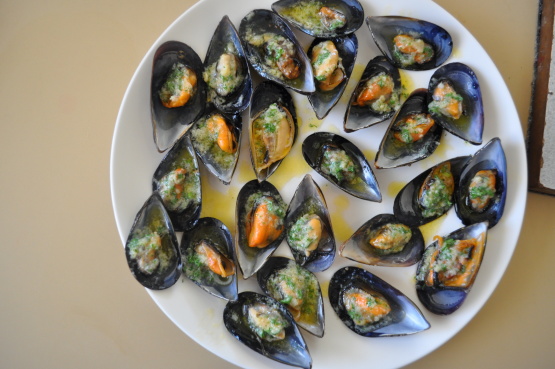 This is a very quick and simple recipe for Mussels. I am not a seafood eater myself but the family do enjoy these.

Top Review by ImPat
I used a kilo of mussels and had a pig out session as the DH doesn't care much for them but ate and few and reconed they weren't bad though a bit salty though I didn't add extra salt but did use salted butter. We ate them straight of the griller/broiler. Thank you Tisme for a great lunch, made for Edition 9 - Make My Recipe.
Cream the butter with the garlic and parsley in a bowl and set aside.
Place the mussels in a saucepan with the remaining ingredients, bring to boil and simmer for 3 minutes or until the mussels open.
Detach the lid from the base and place the mussels still sitting in their shells on a baking sheet.
Dot generously with the garlic butter and grill until the butter has melted.
Serve the mussles on their own or in the wine broth.