PetsRus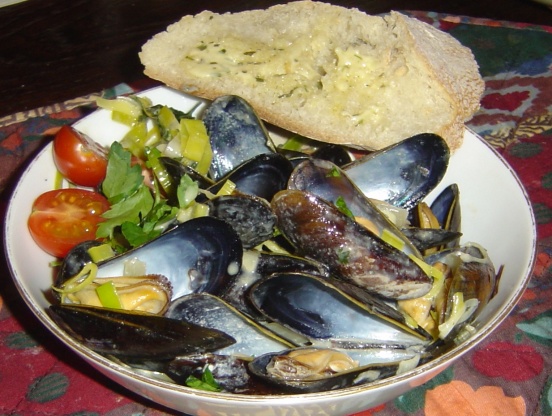 i love mussels! i found this recipe online, it's quick, easy, delicious. this can be served as an appetizer or a main course, but to be honest i can practically eat the whole thing myself. serve it with lots of french bread for the sauce.

I make mussels occasional throughout the year. They are one of my absolute favorites. My daughter has requested them for her birthday dinner for the last 2 years (she just turned 5 yesterday). I made them for her, as requested, and they were AMAZING! Easily, the best mussels we've ever eaten - home or restaurant. The only changes made were that I added extra Dijon mustard and doubled the sauce - because we love to dip in the bread.
Heat the butter in a large saucepan until melted.
Add the onions, shallots and garlic and cook briefly, until wilted.
Do not brown.
Add the mussels, salt, pepper, bay leaf, thyme, white wine and cream.
Cover closely and bring to a boil. lower heat to medium.
Cook for about 5 minutes, shaking to redistribute the mussels.
Cook until all the mussels are opened.
Using a slotted spoon, transfer the mussels to a serving bowl.
Keep warm.
Continue cooking the sauce for a minute, remove bay leaf and the thyme.
Stir in the mustard with a wire whisk while heating.
Do not boil.
Spoon equal portions of the sauce over the mussels and sprinkle with parsley.
Serve immediately with crusty bread.