Mussels, Clams and Shrimp in Spicy Broth
NNChick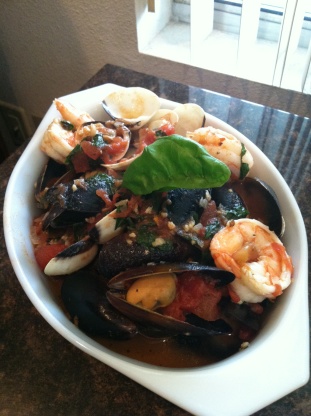 I found this recipe by Giada De Laurentiis on foodtv.com. I have never made mussels or clams and I was delighted with the results. Do not omit the basil, I think it adds a lot to this recipe and make sure you have the warm, crusty bread to dip in the broth!

If we could give this 10 stars we would, sooo delicious and lovely spicy tingle on the palate. We loved every thing about it and will be making it again. Didn't change a thing and I made the whole recipe, we pigged out on it and there is still enough for tomorrow. served with a baguette made into garlic bread. thanks for posting a great one!
Heat oil in a large heavy pot over medium heat.
Add garlic,bay leaf and crushed red pepper.
Saute until garlic is tender (1 min).
Add wine and bring to a boil.
Add tomatoes and simmer until the tomatoes begin to break down and flavors blend (5 min).
Turn up to medium and cook until sauce is good and warm.
Add clams, cover and cook for 5 minutes.
Stir in mussels, cover and cook until clams and mussels open, about 5 mins or so.
When clams and mussels are almost all opened throw in the shrimp.
Cover and cook about 1 1/2 min or until shrimp is done.
Stir in torn basil leaves and serve.