Kiwiwife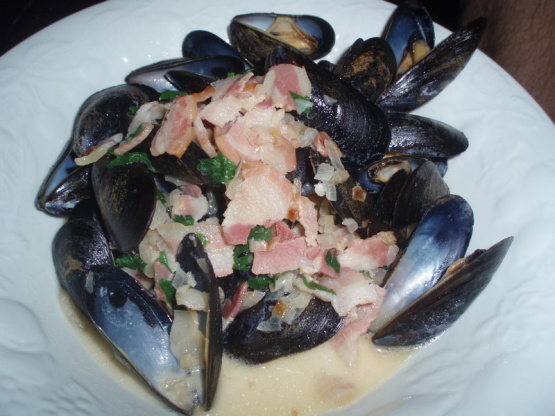 This was in this mornings newspaper, I haven't tried it yet but it sure looks scrumptious!

After researching all the mussel recipes on the Zarr, I decided on this one and boy was my hubby glad I did! I have never eaten or cooked mussels before and was a bit nervous. Boy was it easy! My DH usually only eats dinner and this sfternoon told me he had a sub for lunch and wasn't sure he felt like mussels for dinner. Well let me tell you, he ate a full pound of mussels himself WITH a french bagette to soak up the broth. "Resturant quality" was his exact words. I followed exactly except used butter instead of oil and ommitted red peppers. Also used 1/2 & 1/2 instead of cream because thats what I had. I hope you've had a chance to make this kitina, apparenly, it is fantastic! Thanks for posting!
Scrub mussels under running water and remove any beards.
Discard mussels which remain open during handling.
In a large saucepan combine olive oil, red pepper, garlic, shallots and pancetta.
Cook over low heat, stirring frequently for 5 minutes.
Increase heat to high and add wine and mussels.
Cover and cook for 3 minutes.
With a slotted spoon remove mussels as they open and place on a warm serving dish; discard any mussels that remain closed.
Immediately add cream and parsley to the broth and simmer to reduce slightly.
Add salt and pepper to taste.
Pour hot broth over mussels in serving dish.
Dress with chopped parsley.
Serve immediately with crusty bread.
Source: International Olive Oil Council.