Prep 25 mins
Cook 15 mins
This is wonderful!! Serve with a loaf of crusty french bread. Recipe from Jamie Oliver.
Directions
Melt butter and olive oil in a large pan.
Saute leeks and garlic until very soft, about 5 minutes.
Add wine and turn up heat, for about 1 minute, until alcohol smell disappears.
Add cream and bring back to a boil.
Add mussels.
Cover and cook until all mussels have opened.
Discard any mussels that remain closed.
Serve in a large bowl with crusty bread.
Enjoy!
Most Helpful
This dish has become a new family tradition. Made every Christmas Eve for the last 7 years and enjoyed by ALL! Quick, no fuss and delicious meal. Crusty Bread is a must. Great with a fresh salad!
OMG - this was absolutely luscious! I love mussels, but rarely go through the trouble of cleaning and de-bearding them! This was worth it! Make sure you have plenty of bread to soak up the delectable juices! I wish I could have gotten a better photo, but my camera was dead, and I had to use my cellphone. Made for ZWT6.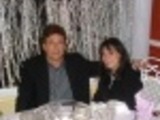 Wonderful!!! Loved mussels and this is another great way to prepare. I don't think people realize how easy they are to make at home. Love the leeks here!! Made for a Seasoned Sailor and his Sassy Sirens - ZWT6.