Mushrooms With Sour Cream

An old favorite that my mom makes.
Directions
Cook and stir mushrooms in butter for 3 minutes.
Stir in flour; cook and stir for 1 minute.
Stir in sour cream, salt and pepper. Heat, stirring occasionally, just until hot.
Sprinkle with dill weed.
Reviews
Most Helpful
We really enjoyed this. I made this as a side with grilled steak and it was just the perfect thing to go along. I liked that it was quick and easy, too. Thanks, littlemafia!

We loved this! Made it as posted and served it with tagliatelle. Very quick and easy and will definately make again although as DH is a complete meat eater I may add some chopped bacon next time. Thanks for posting, made for ZWT6.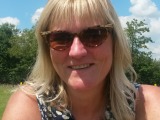 I made this yesterday for lunch using fat free sour cream. It was scrumptious and very easy on a sore throat. Very quick and simple to make it was great as a full meal served in noodles. I skipped the dill and added a bit of Italian seasoning while the mushrooms were cooking instead and topped it all with some chives. Mmmmm Good!. Made for Photo Tag.