Mushrooms Stuffed With Spinach and Cheese
Rita1652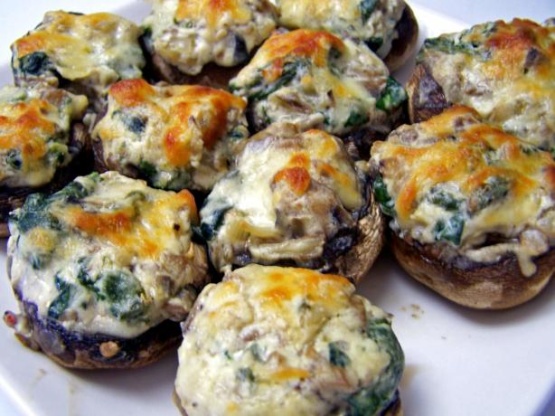 These are a great Appetizers or you can make a Meal out of them!
I thought these were really good and low in calories! After reading some other reviews I added some tobasco sauce to the cheese mixture, it added some nice heat. Depending on your tastes you may want to play with the spice level and types. Some truffle oil might be good as well instead of regular olive oil.
Wipe clean mushrooms.
Remove stems and dice them.
Heat a pan place oil in it and when hot add stems, onions, garlic and cook 5 minutes. Add spinach, salt, pepper, pepper flakes, rosemary cook 3 minutes stirring till wilted.
Preheat oven to 350 degrees.
Add ricotta cheese to spinach and toss till combined.
Fill mushrooms with spinach/cheese mixture.
Place caps on a greased pan and top with shredded cheese.
Bake mushrooms 20 minutes.
Place mushroom on a platter and serve.