Mushrooms Stuffed With Feta Cheese And Garlic
Bergy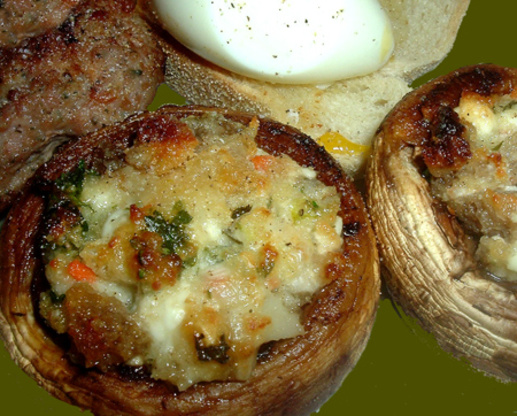 I deviated somewhat from this recipe based on what I had on hand, omitting the scallions and the garlic croutons - I just added 1 tsp. garlic powder, which worked beautifully. Also skipped the butter-basting which wasn't in the list of ingredients when I made these. I baked them for about 10 minutes on 350 and broiled for about 4 minutes until deep brown. I have one thing to say: YUM! Ok, one more thing: Thank you SO much for a great recipe, Secret!
Clean and remove stems of mushrooms and baste mushrooms with melted butter.
Combine all ingredients except for the mushrooms and stir until mixture is well blended.
Fill the mushrooms with the mixture, mounding the mixture high into the caps.
Bake in a 350 F oven until hot.
Then broil for a few seconds until lightly browned.