Derf2440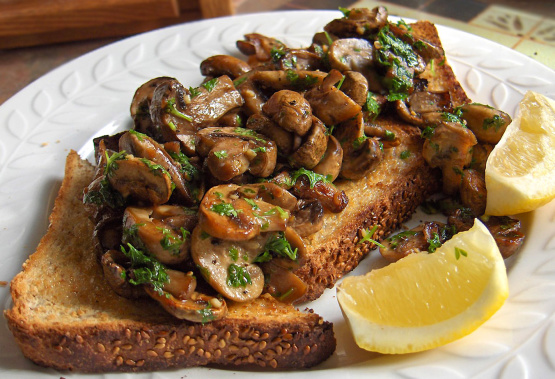 If you're home on your own then here's an easy meal for one.

I always buy too many mushrooms and this is one of my favourite ways of disposing of the excess. Great way of getting extra iron if you are vegetarian.
4

large flat mushrooms

50

g butter

1

tablespoon vegetable oil

1

clove garlic, minced
salt & freshly ground black pepper

2

slices bread, thick
Wipe any dirt from the mushrooms and, if you want, slice them into three or four thick pieces.
Heat half the butter and oil in a frying pan over medium heat.
Lay out the mushrooms and then turn immediately, so both sides are saturated with the buttery oil.
Lower the heat and leave to cook, turning occasionally, for about eight minutes until completely cooked and dark in colour.
Near the end of the cooking, scatter the garlic over the mushrooms and toss the mushrooms around in the pan so the garlic cooks.
Stir in the parsley and season with salt and pepper.
Sprinkle with lemon juice and toss for a final time.
Turn off the heat.
Toast the bread, butter one side and pile the mushrooms on top.