loof751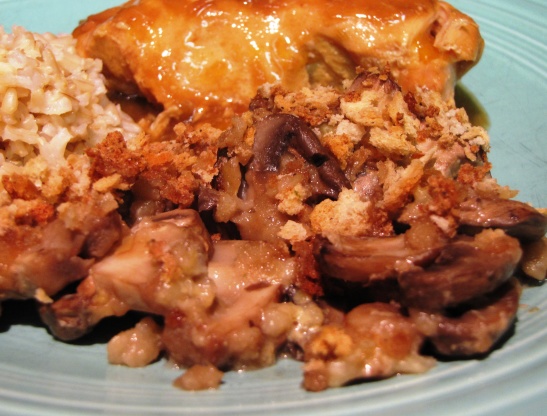 This is the 3rd recipe I have entered today from the "1 of a Kind" cookbook of the Junior League of Mobile, AL & I have no clue about the meaning of Delwood. This Junior League sure does have some tasty & easy-to-fix gems. I have not tried this one, but I suspect that status will not last long. Enjoy!
Preheat oven to 350°F.
In a large saucepan over med heat, dissolve bouillon cubes in the water. Stir in the flour, milk & cheese. Cook till well-thickened, stirring continuously.
Remove from heat source, stir in sliced mushrooms & mix well to get good coverage w/sauce.
Pour mixture into a buttered casserole dish. Sprinkle stuffing mix over over top & dot w/butter.
Cover & bake for 30 min, then uncover & bake 10 min more. Serve immediately.
NOTES: 1) You will want this sauce to be very thick as the mushrooms will add their liquid to thin it as the dish cooks. 2) The sauce will be salty, but much less so when the mushroom liquid joins it. If this is a concern, cut back to 1 bouillon cube. 3) I also did not find this dish in need of any butter added to the top.