Mushrooms Casino for a Crowd
twissis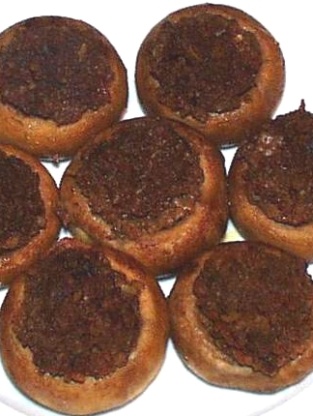 I don't really care for mushrooms but I love these little gems. This is another one of the recipes from my recent cooking for 50 adventure.

I agree these are a crowd-pleaser. I remember making something akin to this recipe yrs ago & the most notable thing about them was the promise they could be made well ahead, cooked, frozen & reheated in the microwave. I wasn't serving 50, but I did make a generous amt of these "guys" for DH & I to savour tonite w/our pizza & then froze the rest for another dy. My celery didn't look that good, so I left it out. I didn't have & couldn't find Old Bay Seasoning, so I added garlic as I always do, a bit of Worcestershire for its smoky flavour & used crushed Pepperidge Farm Dressing Mix for breadcrumbs as I love the sage flavour. Thx for posting. — Jul 11, 2006
Rinse mushrooms in a colander. Pat dry with paper towels. Remove the stem from each mushroom then hollow out the center of each mushroom cap. Set caps aside. Finely dice the stems and pieces.
Heat a heavy frying pan over medium high flame. Add bacon pieces & cook until almost done.(cooked but not crumbly).
Remove bacon from pan and set aside. Pour off all the bacon drippings & reserve.
Add sausage to the pan and cook over medium heat for 10 minutes or until no longer pink. Break up the sausage as it cooks.
Stir onion & celery into sausage.
Add hot sauce, Worcestershire, reserved mushroom pieces, cooked bacon, and the OLD BAY® Seasoning.
Stir and cook until all vegetables are soft, about 4 minutes.
Add bread crumbs to pan and carefully mix. If necessary, add bacon drippings to mixture to bind all ingredients together to achieve a stuffing consistency.
Pour oil into a small bowl. Dipping a pastry brush into the oil, paint the outside of each mushroom cap.
Place the caps on a sheet pan hollowed side up.
Place an equal portion of the stuffing into each cap.
At this point, these can be covered & refrigerated for later use. If chilled, bring back to room temp before proceeding.
Broil until lightly browned or bake at 350°F for 10 to 12 minutes.