Boomette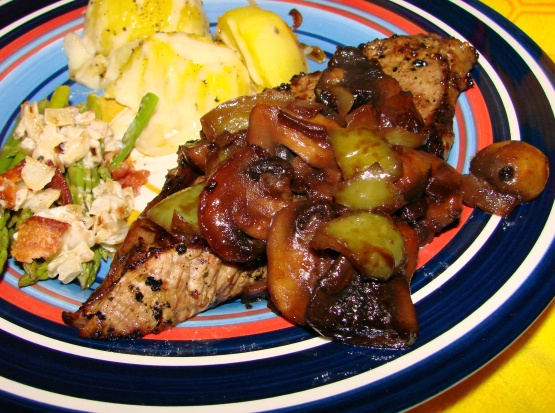 I quote the cookbook Vegetarian Epicure: "The mushrooms and peppers will be very dark and evil looking, but irresistible in flavor and aroma." So true. In my opinion, there is no better side for a good steak.

Like the 1st reviewer I was shocked at just how sweet this turned out. I wanted to use it as an hors d'oevre sauce with Sephardic egg and potato cake, but luckily tried it out before guests were due. Repeated with greatly reduced sugar (and a spoonful of cream as it seemed to dry out at the end) and it was great, really good flavours.
Clean the mushrooms, cut in half unless quite small. Cut bell pepper into approximately 1-inch pieces. Dice the onion.
Melt the butter in a large saucepan and sauté the onion until translucent.
Prepare the sauce: Mix together mustard, brown sugar and Worcestershire cause until you have a smooth paste. Whisk in the wine, season with lots of freshly ground pepper and seasoned salt to taste.
When the onion is ready, add the mushrooms and peppers and sauté 5-10 minutes, stirring often. As the mushrooms begin to brown and reduce in size, add the wine sauce.
Simmer the mixture over medium heat for about 45 minutes or until the sauce is much reduced and thickened.
See the quote above.