Rita1652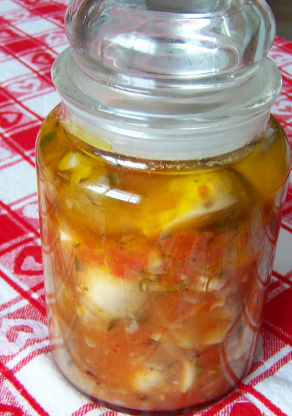 Mushrooms a la Grecque is a French dish in which mushrooms are prepared in a Greek style with lemon juice, olive oil, and Greek herbs and spices. This recipe is adapted from The Food of France

Top Review by yooper
Tish, thank you for posting this! I used to have an old James Beard cookbook that I lost among my many moves over the years, which contained a recipe for this. I always meant to try it, and now thanks to you I have. I used a combo of white buttom, portobello and shiitake shrooms. I chilled them and brought them to room temperature before serving! Fungus never tasted so good!
Wash the mushrooms and set aside.
Put the tomatoes, olive oil, vermouth or white wine, shallots, garlic, coriander seeds, bay leaf, thyme, and water in a saucepan and simmer for 10 minutes.
Then put in the mushrooms, and simmer for 10 more minutes, uncovered.
Remove the mushrooms and place in a serving dish.
Boil the liquid until there is only 1 cup.
Take out the bay leaf and thyme.
Add the lemon juice, pinch of sugar, and a few grinds of sea salt and pepper to taste.
Pour liquid over mushrooms; garnish with chopped parsley.
Serve warm, or refrigerate and then serve chilled.
*Youcan use a variety of mushrooms in place of the white mushrooms: Baby Portobellos, Crimini, Shitake.