PanNan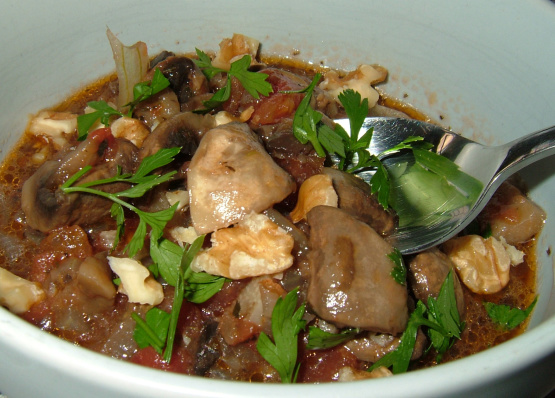 A classic mushroom dish which can be served as one of several mezze dishes, or served with crusty rolls or pita bread and a favourite dip for lunch. It's served cold, and will appeal to mushroom lovers! I've adapted it from a recipe in 'Mediteranean Kitchen', and I'm posting it for the 2005 Zaar World Tour.

Awesome, super yummy recipe. We paired it to Mama's Absurd Vegetable Gratin, it was so good. Will be making this again. It would be excellent w/ crusty bread! We used red wine and perhaps (perhaps..?) I may cut back the oil a wee smidge next time - prob. not :o) !! Thanks very much!
Cut a cross on the base of the tomatoes, immerse them in boiling water for 20-30 seconds, then plunge them into cold water; drain and peel the skin away from the cross and, discarding the juice the and seeds (see notes below), finely chop the tomatoes.
Place the tomatoes, oil, wine, onion, garlic, bay leaf, thyme and basil to a non-aluminium pan, add about 1 cup of water and bring to the boil; then cover and simmer for 10 minutes; then uncover the pan, add the mushrooms and simmer for a further 10 minutes, stirring occasionally.
Lift out the mushroom with a slotted spoon and transfer them to a serving dish.
Boil the cooking liquid rapidly until about 1 cup remains, remove the bay leaf, add the lemon juice and season with salt, pepper and sugar, to taste.
Pour the liquid over the mushrooms, and leave the mushrooms to cool.
Serve the mushrooms cold, sprinkled with the chopped parsley and the walnuts.
Notes: Rather than wasting such juices or vegetable peelings, I add them to my container of ingredients for when I next make my Vegetable Stock Recipe #135453.