Mushroom Walnut Loaf(Vegetarian Meatloaf) Copycat from the Spot
Katzen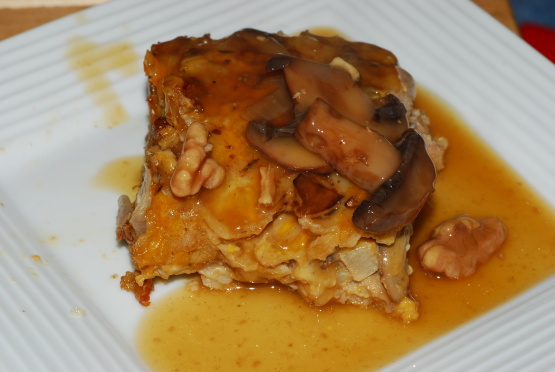 I was a vegetarian about 10 years ago and I was always trying to find good creative vegetarian dishes. My husband took me to this vegetarian restaurant called The Spot in Hermosa Bch., CA. The food there was AWESOME! They had a cookbook and I bought it! This is one of the recipes in it. I made it years ago and it was FAB! Serve this with the Mushroom Walnut Gravy that I will post next. You don't have to be vegertarian to enjoy this dish! Actually I prefer this over regular meatloaf. =)

Super fantastic! This would be a star on anyone's table, vegetarian nor not. I made it with the suggested gravy: recipe #390795, and they were great together. At the last minute I discovered that I only had three cups of cheddar cheese, so I added a cup of ricotta. I think it made the loaf softer/moister than it should have been, so I don't recommend that for aesthetics. But flavor could not be beat. I'm going to make this next time with just the chedder and I'm putting this in my "good enough for company" cookbook. Thanks for posting!!!
Preheat oven to 350 degrees.
In a large bowl combine all the ingredients and mix well.
Pour into a 9 x 13 baking pan. Bake for 45 minutes.
Serve with mushroom walnut gravy.