Mushroom Walnut Gravy Copycat from the Spot Natural Food Restaur
Katzen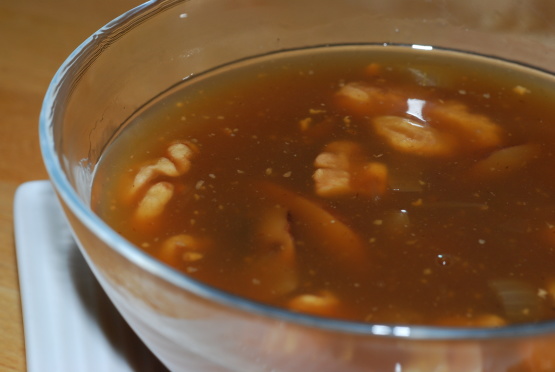 This is the recipe that goes with the Mushroom Walnut loaf. However you can also serve this with steamed vegetables or brown rice or whatever you like.

I thought this gravy was okay. I used regular soy sauce instead of tamari and thought the braggs overpowered the taste and added a bit of sugar to balance out the saltiness. I used about 3/4 cup mushrooms, no walnuts. The gravy was easy to make and I'm glad I tried it.
4

cups water

2

tablespoons onions, chopped
1⁄4 teaspoon granulated garlic

2

tablespoons Braggs liquid aminos

2

tablespoons tamari soy sauce
3 1⁄2 tablespoons cornstarch mixed in with 1/4 cup water
In a large saucepan, combine water, onions, garlic, aminos, tamari mushrooms and walnuts. Bring this mixture to a boil.
Seperately mix the cornstarch and the 1/4 cup water and slowly add this mixture to the sauce.
Cook over low heat, stirring frequently, until the sauce thickens. About 10 minutes.
Serve this with the mushroom walnut loaf or over steamed brown rice.