Mushroom & Veggie Sausage Lasagna
Nimz1466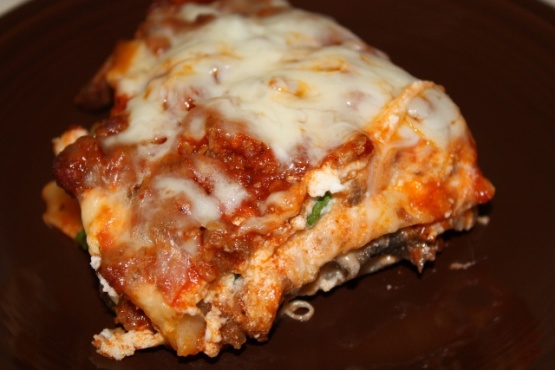 delicious & healthy vegetarian lasagna. you can vary the ingredients as you like. if you use vegan sausage and jarred sauce, the seasonings & salt should be sufficient on their own.

This was just delicious with just a few changes because I couldn't find the vegan Italian sausage. I did try to half the recipe for the 2 of us but that seemed a little difficult as I don't know what 4 sausages vegan Italian sausage is. So I used a pound of Italian sausage and browned it and drained all the grease off of it before adding the mushrooms and garlic. I also used oven ready Lasagna to save some steps and added extra mozzarella cheese (love it). Added lots of mushrooms (about 8 oz) too. It turned out great. I would at some time like to find the vegan Italian sausage and try this again and make as written but just could not find to make the recipe as written. Thanks so much for sharing. Made for Spring 2012 PAC
boil water and make the pasta according to package directions. cook with salt and olive oil to prevent sticking. when done, rinse with cold water and lay in separate strips on foil or plates.
preheat oven 350 degrees.
saute garlic, crumbled vegan sausage, and mushrooms in olive oil.
add tomato sauce to the mushrooms & sausage. simmer on low. add up to 1/2 cup water and wine to taste to make this more liquidy.
in a separate medium mixing bowl, combine ricotta cheese and chopped green onion.
layer a 9X13X2 pan with 1/3 of sauce mixture. lay 3 strips pasta on top. spread 1/2 ricotta mixture over this. repeat sauce, pasta, cheese layers until you run out. top it off with pasta. add any sauce that's left. add shredded mozzarella cheese. cover with foil.
bake at 350 degrees for 40 minutes.
let stand 10 minutes before serving.