Mushroom Tortellini in Curry Cream
Asha1126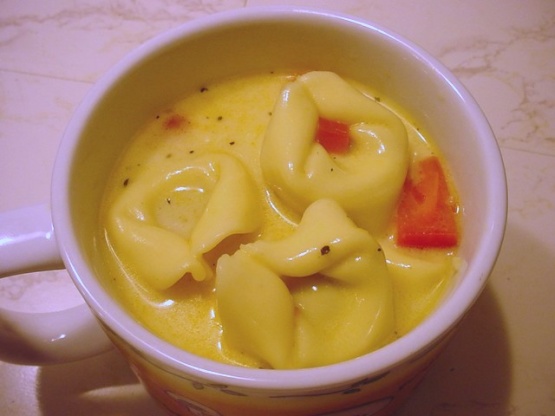 From Dinnertime Express. Quick cooking soup with wonderful aroma.

I really liked this soup a lot. It was a creative (and tasty) use of tortellini. Next time I'll probably add some more Indian-type spices (some garam masala or coriander, maybe); it's very good as written, too. Thanks for sharing this recipe, Asha!
In a medium saucepan cook shallot, jalapeno pepper, curry powder, and garlic in hot oil about 1 minute or until shallot is tender.
Stir in chicken broth and bring to a boil.
Reduce heat and simmer covered for about 5 minutes.
Stir in coconut milk, tortellini, and basil.
Cook and stir about 5 minutes more or until pasta is tender but stil firm.
Stir in the tomato and cook until heated through, but do not boil.
Ladle into soup bowls and enjoy!