Mushroom, Tomato and Onion Saute
katia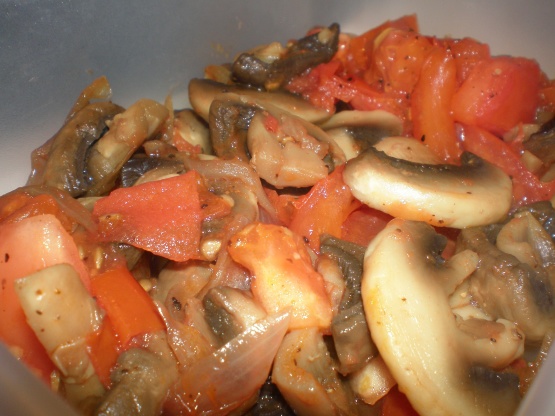 One of my husband's recipes. Goes great with just about anything and easy to prepare. Using a large cast iron pan is preferable but a non-stick will suffice.

This is really good although I tweaked it a bit and put it on a sandwich. I only cooked for myself so I used half of a tomato, half an onion and two mushrooms. I added a little bit of crushed red pepper, parsley, about half a clove of garlic and some salt and pepper. I also took two slices of ciabatta bread and toasted it in the oven at 375 with a couple slices of provolone and turkey breast on it. I added the sautéed mixture to the sandwich and it was pretty good. Next time I might make a sweet sauce to put on the sandwich too. I'll definitely make this again.
Preheat the pan over medium low heat then add 2 tablespoons olive oil.
Add the onions and brown slowly until tender and golden, about 10 minutes.
Add more oil if necessary and add mushrooms. Do not raise heat. Cook an additional 10 minutes.
Add tomatoes and continue to cook until soft, 10-15 minutes.
Season with salt and pepper and serve.