Elodie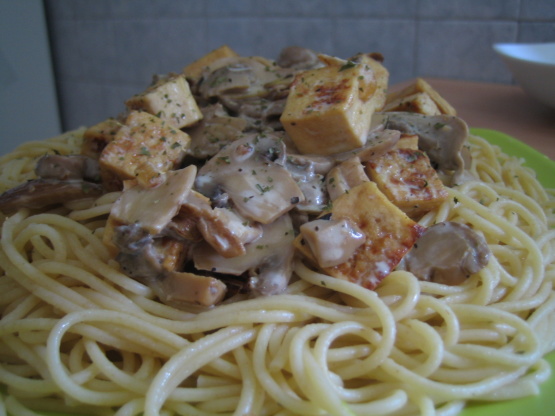 This is from the Horn of the Moon Cookbook. This is really rich and makes a lot. (I wonder if it would freeze well.) You might want to halve this recipe. Serve with salad and crusty bread.

both me and my husband really enjoyed this recipe, he's actually not a huge fan of most tofu. i did use olive oil instead of butter and omitted the poppy seeds. i also added some whipping cream along with the sour cream, a touch of lemon juice.
Melt 2 tbls butter in large frying pan. Sauté the onions, garlic, dill and basil.
After 5 minutes add the tofu and continue to cook until tofu is nicely browned.
Add soy sauce and stir. Add mushrooms salt and cayenne.
Lower heat and cook another 5 minutes.
Add sour cream and parsley to mushrooms. Mix well.
Melt remaining 2 tbls butter in saucepan and add the poppy seeds.
Cook 5-10 minutes. Pour onto noodles and toss.