awalde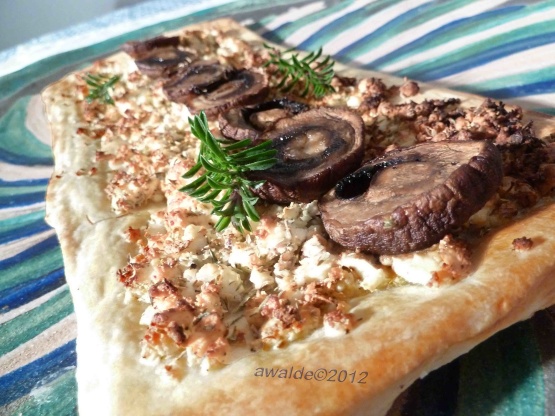 A recipe from our Sunday paper and their Taste.com feature.

Loved this mushroom tart with all the wonderful flavors going on. The goat cheese was wonderful with the lemon and thyme and the addition of the mushrooms was perfect. Served this delightful tart with a prime rib roast and a salad. It made a wonderful dinner last night. Made for Everyday is a Holiday tag, December, 2013.
preheat oven to 200°C.
Place the mushrooms on a baking tray and brush generously with olive oil, season and bake for 8 minutes and then remove and leave to cool.
Mix the goats cheese with thyme leaves and lemon zest and season.
Meanwhile, roll out pastry to a 33cm x 13cm rectangle and place on a lined baking tray and spread goats cheese mix along the centre.
Using a sharp knife, lightly score a border 1 to 2 cm in from the edge and then arrange the mushrooms on top.
Brush exposed pastry with beaten egg and bake for 15 to 20 minutes until puffed and golden.