MoggyK9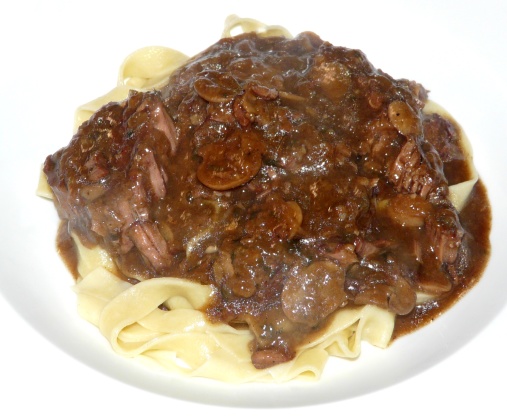 Comfort food at it's best. Really delicious with smashed potatoes and salad or green vege. And it freezes really well, making this a nice option for OAMC too.

This was delicious! I wanted to prepare dinner early so I could relax. So I prepared the recipe as stated but instead of simmering it on the stove top, I put it in my cast iron dutch oven and put it in the oven at 325 degrees for about 2.5 hours - I did add a little extra broth (I used beef) since I was cooking it so long but other than that I followed the recipe. I served ours over homemade egg noodles. This one goes in my keep file.
Combine flour, salt and pepper; dredge cube steaks. Heat oil in skillet and brown steaks on each side. Set aside and keep warm.
Add onions and mushrooms to skillet, reduce heat to low and cover. Stir occasionally, scraping browned bits from bottom, and "sweating" the vegetables until softened.
Add remaining ingredients, and stir to combine. Return steaks to the skillet, covering with the sauce and veges. Cover and simmer until steaks are tender and sauce has thickened - about 45 minutes. Serve immediately.
To freeze, place completely cooked steaks, with sauce, in freezer-safe container and freeze. To prepare, thaw in refrigerator and heat through on stove top or in micorwave.