Mushroom Swiss Cheese Omelet
Rita1652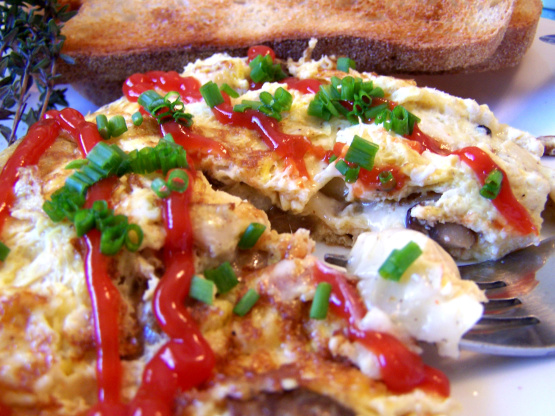 Eggs should be as fresh as possible and at room temperature. Salt should be added at the table to avoid toughening the omelet.

Perfectly fluffy and tender omelet with amazing flavor. The mushroom and swiss combination is always a winner, but the thyme and chives really make it special. I added a bit of shredded cheddar and caramelized onion as well just because I had em :)
Stir cream into eggs.
Sauté mushrooms and garlic in the butter, about 5-7 minutes in a 9-inch omelet. Add pepper flakes to taste, sprinkle in the chives and thyme.
Stir the beaten eggs into the mushrooms over medium-high heat.
Heat the remaining butter in pan over medium heat.
Stir the eggs briskly with flat of a fork and continue stirring until mixture is nearly cooked, but still wet, sprinkle the shredded cheese over the surface before folding.
Flipping one side over onto the other. If you have a hard time flipping you can cut in half then flip.
Garnish with additional chives.