Mushroom-Stuffed Hamburger Steaks
Derf2440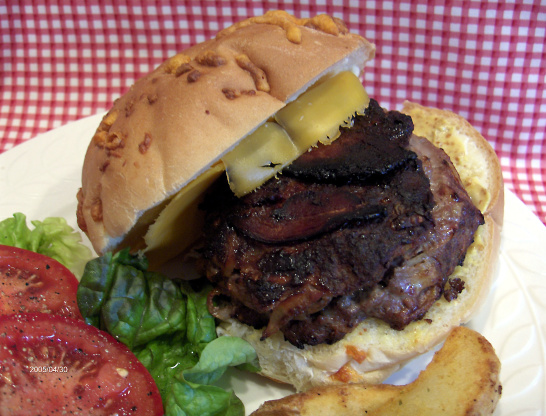 Another great one NurseDi. My family really enjoyed this today. I served them on a bed of seasoned white rice. For the one person who can't eat onions, I left one without stuffing it and she raved about it too. Next time I may alter it just a little for my cheese lovers and add a slice of mozzerella just before I take them out of the broiler. Thanks for another great recipe.
Melt butter in a large skillet; add onion and mushrooms, and saute over medium heat 2 to 3 minutes or until tender.
Remove from skillet.
Combine ground beef and next 7 ingredients in a large bowl; shape into 8 patties.
Top 4 patties evenly with onion mixture; cover with remaining patties, pressing edges to seal.
Wrap each with 2 bacon slices, securing with wooden picks.
Place on a rack in a broiler pan.
Broil 5 1/2 inches from heat (with electric oven door partially open) 10 minutes on each side or until beef is no longer pink.