Mushroom Stuffed Eggplant (Aubergine)
Parsley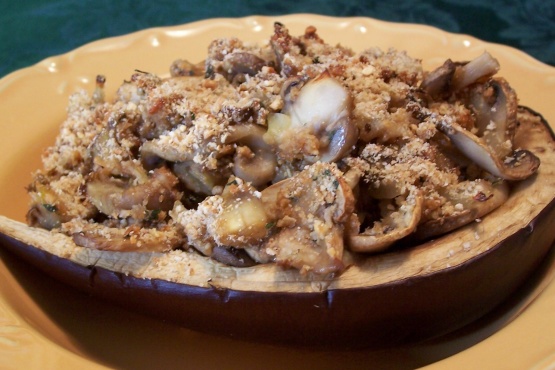 A nice and different way to serve eggplant. Makes a nice side dish presentation.

Top Review by fidem
Mmm delicious! I used Quinoa rather than breadcrumbs, oil rather than butter and excluded parmesan. We've enjoyed a lot. Thanks.
Preheat oven to 375°F.
Halve the eggplant lengthwise. With a serrated spoon or a knife, scoop out pulp of eggplant, leaving about a 1/2" shell.
Place shells on a lightly sprayed cookie sheet and bake in oven for about 10-12 minutes.
While eggplant shells are in oven, finely chop the eggplant pulp.
In a pan, over medium heat, melt butter. Add eggplant pulp, onion, parsley, salt, oregano, garlic and mushrooms. Cover and sauté, stirring occasionally, until eggplant pulp and mushroom are tender -- about 10 minutes or so.
Stir in parmesan cheese and HALF of the breadcrumbs.
Turn oven down to 350°F Remove eggplant shells.
Spoon mixture into eggplant shells.
Mix remaining half of breadcrumbs with melted butter. Sprinkle over filled eggplant.
Place filled eggplant shells back in the oven bake at 350°F for 20-25 minutes.