Mushroom Stuffed Brie En Croute
2Bleu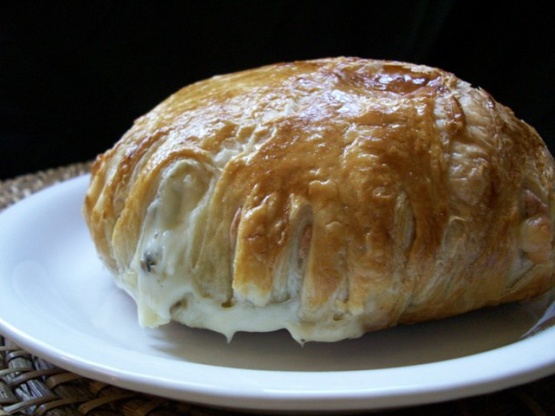 When Sex & the City was on HBO, I hosted a girls' get-together every Sunday night, complete with cosmopolitans and champagne. This baked brie got the most compliments and there were never leftovers. Note that this can be made in advance and put in the oven when your guests arrive - the house will smell good! The recipe is originally from Gourmet magazine.
1

small onion, minced to 1/2 cup

29.58

ml unsalted butter

226.79

g mushroom, finely chopped

14.79

ml dry sherry

2.46

ml nutmeg

489.02

g package puff pastry sheets, thawed according to package directions (find this in the frozen dessert section)

396.89

g brie round, chilled (Note this is a larger size, up to 17 oz, which is not available in all grocery stores)

1

large egg
In a 9- to 10-inch heavy skillet, cook onion in butter over moderate heat, stirring, until softened.
Add mushrooms, sherry, nutmeg, and salt and pepper, to taste, and saute over moderately high heat, stirring, until the liquid that the mushrooms give off is evaporated.
Cool mushroom mixture.
On a lightly floured surface roll out 1 sheet of pastry into a 13-inch square and, using Brie as a guide, cut out 1 round the size of the Brie.
Cut out a mushroom shape from scraps for decoration, or use any cookie cutter shape.
Horizontally halve Brie.
Roll out remaining sheet of pastry into a 13-inch square and transfer to a shallow baking pan.
Center the bottom half of Brie, cut side up, on pastry square and spread mushroom mixture on top.
Cover mushroom mixture with remaining half of Brie, cut side down.
Without stretching pastry, wrap it snugly up over Brie and trim excess to leave a 1-inch border of pastry on top of Brie.
In a small bowl, lightly beat egg and brush onto border.
Top Brie with pastry round, pressing edges of dough together gently but firmly to seal.
Brush the top of pastry with some egg and arrange pastry mushroom on it.
Lightly brush mushroom with some egg, being careful not to let egg drip over edge of mushroom (which would prevent it from rising).
With back of a sharp small knife, gently score side of pastry with vertical marks, being careful not to cut through dough.
Chill Brie, uncovered, 30 minutes.
Brie may be made up to this point 1 day ahead and chilled, loosely covered.
Preheat oven to 425 degrees F.
Bake Brie in middle of oven until pastry is puffed and golden, about 20 minutes.
Let Brie stand in pan on a rack 15 minutes and transfer with a spatula to a serving plate.
Serve Brie with French baguettes or crackers.