Nimz1466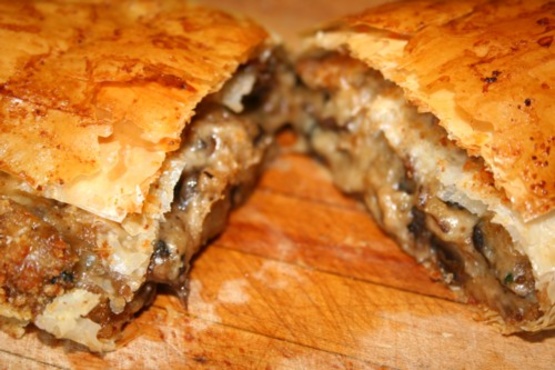 I make it sort of fat and bulky when it's just for us; long and skinny and somewhat elegant when I'm serving it at a party. Servings are calculated based on appetizer portions.

Top Review by MarlaM
Made these for a Christmas day appetizer and they were super delicious! I used oz of Shitake, 6 oz of crimini and about 1 lb of button mushrooms. I used about 3 oz of feta and 3 oz of parmesan, a large handful of spinach and 3/4 cup of wine. It took some extra time to cook down, but the flavor was worth it. I used 6 pieces of phyllo per roll and I got 3 long skinny rolls, but forgot to use the basil until the last roll (darn!). I cut into bite sized pieces before cooking so the phyllo wouldn't crumble and they turned out really beautiful! Super easy to put together but they look like something that was professionally prepared! I'm so bummed that I forgot to take a picture - they really were pretty! Thanks for posting - I'll definitely be making these again!
In a large skillet, over medium heat, combine oil, mushrooms, onion and garlic.
Season with salt and pepper.
Stir frequently, until mushrooms have released their liquid and most of that liquid is evaporated.
Add the wine, the thyme, the basil, the spinach and the lemon rind.
Saute until the liquid is evaporated.
Transfer to a bowl and allow to cool.
Stir in cheese, 4 tablespoons of the breadcrumbs.
Preheat oven to 350°F.
Line a cookie sheet with buttered parchment paper.
Lay out one sheet of phyllo, brush with melted butter, top with another sheet of phyllo and brush again with butter.
Repeat (using in total four sheet of dough).
Sprinkle breadcrumbs over the phyllo dough.
Lay out mushroom mixture over one end of Phyllo dough.
Carefully roll into a strudel, tucking in the ends.
Brush the strudel with butter.
Bake until golden and crisp--about 30 minutes.