Mushroom Stroganoff With Mustard and Chive Mash
lazyme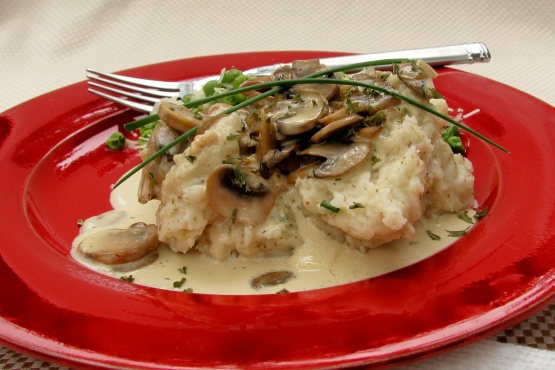 what a fantastic combination, mushrooms in a yummy stroganoff sauce flavored with a little brandy and mashed potatoes, dinner on the table in 30 mins. Update 24/02/12 Made and devoured, it really is a dish where you don't miss the meat..but could add some.

We really enjoyed this mushroom stroganoff for dinner tonight. The sauce over the mustardy potatoes was very flavorful. I am also not a big fan of sour cream, so I appreciated that this recipe did not use it as most stroganoff recipes do. Thanks for an enjoyable dinner.
For the mash

750

g potatoes, peeled and cut into chunks

1

tablespoon coarse grain mustard

1

tablespoon chives, chopped

For the stroganoff

3

shallots, finely chopped

3

whole garlic cloves, finely chopped
1⁄2 teaspoon paprika

500

g white mushrooms, assorted, roughly chopped

1

tablespoon brandy

150

ml thick double cream

1

tablespoon dill, finely chopped

1

pinch salt & freshly ground black pepper

2

tablespoons parsley, finely chopped, to garnish
Boil or steam the potatoes until tender. Drain and return to the pan. Mash, and add the butter, mustard and chives. Heat the milk, pour over the potatoes and beat inches
To make the stroganoff, melt the rest of the butter or margarine in a pan. Add shallots and garlic and cook gently for 5 minutes. Add the paprika and the mushrooms and cook until just soft.
Add the brandy and stir in the cream and dill. Season to taste then heat gently - cover and keep warm.
To assemble, serve individually by placing equal portions of the mashed potato on each plate. Spoon the stroganoff over the top, and garnish with parsley.