Mushroom Soup Smothered Chicken Breasts
Annacia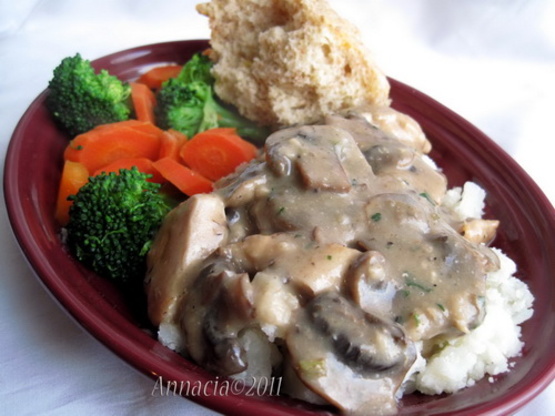 Yummy, moist chicken breasts covered with a mushroom soup sauce. Really easy to make on a busy weeknight. Add your favorite veggies.

This is a top drawer comfort dish. I used the recipe as written with the single exception of cutting the chicken into pieces ( used a frozen breast that was pretty ragged and wouldn't have looked nice cooked as it was. I finely minced the onion (DH isn't a fan but I just can't cook without them) and proceeded as directed. The onion and basil gave a good flavor base. This was ideal over potatoes and it's very quick and easy to make. Made for PAC, Spring 2011.
Brown chicken breasts on both sides in olive oil in large skillet, but don't fully cook. Remove when done.
In same skillet, cook garlic, mushrooms and red onion in olive oil till tender.
Add cream of mushroom soup, water, salt, pepper, basil and cayenne. Stir till mixed.
Add chicken breasts to skillet, spoon sauce over chicken. Cover skillet. Bring to simmer.
Cook until chicken is done--time will vary depending on size of chicken breasts.
Serve chicken with sauce.
***Sauce is good on stuffing and mashed potatoes.