Mushroom Sauce for BBQ Meats
Peter J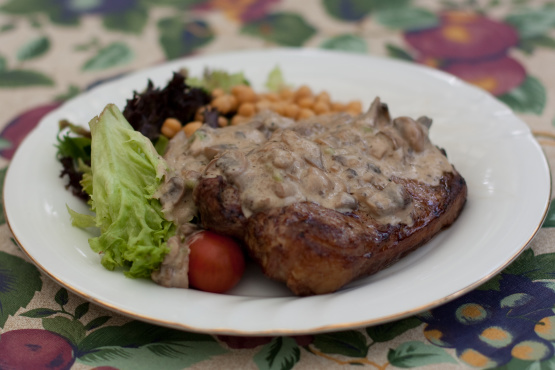 For this recipe use either the cottage cheese or sour cream - you really can tell very little difference. Make in advance, if you wish and just reheat. I don't like my sauce too thick but add a bit more flour if it is too thin for your liking. Add garlic, hot peppers whatever you fancy, this is just the base recipe.

Top Review by Shari2
Very good mushroom sauce. I took the recipe camping with us and we had it with london broil. Very yummy. My husband also put it on his potatoes and said it was great with the potatoes. I will be using this recipe again. I used sour cream instead of the cottage cheese and it turned out fine. Thanks for posting your recipe.
Melt butter in a frypan and saute the mushrooms for about 3 minutes.
Blend in the flour, salt, pepper, thyme& chives.
Meanwhile dissolve the beef cube in the boiling water and stir into the frypan mixture Keep stirring until the mixture comes to a boil and thickens.
Take pan off the heat and stir in the cottage cheese (sour cream).
Keep warm and serve with BBQ meats, chicken.