ImPat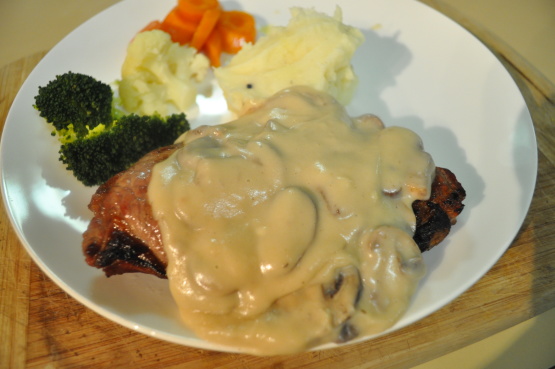 works well on beef, pork, potatoes. this is also the base for homemade mushroom soup

Top Review by ImPat
I used an equal mix of swiss brown and white button mushrooms for this recipe and the DH declared it as one of my better tries at mushroom sauce but he felt there was too much thick sauce and not enought mushroomm to the balance of the recipe and would have to agree with him so would scale the brown roux (first time making though have made many white sauces in my time) to 3/4 of the recipe or up the mushromms by a quarter as a starting point. We had nearly half left oveer after serving over our steaks and sausages (or in my case over my steak - the rest had it on the side their preference left overs look good for breakfast in the morning). I did omit the onion juice due to allergy issues and used low fat milk (hi-lo here in Australia - sort of between skim and regular) but otherwise followed through as per recipe. Thank you chefmick, made for Newest ZAAR.
saute' mushrooms in 1/4 cup butter.
lightly brown the 1/3 cup butter, don't burn, and add onion juice, flour, salt and pepper and continue to make a medium brown roux.
slowly stir in milk and add sherry when milk is hot.
Add mushrooms and cook till desired thickness.