Sageca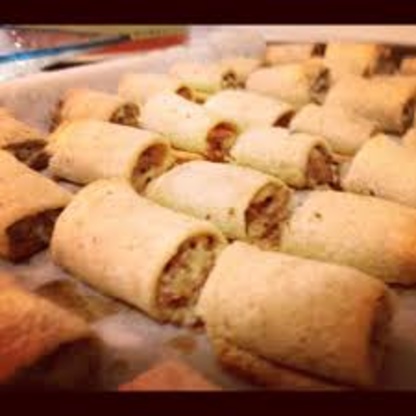 A flavourful hors d'oeuvre to have on hand when unexpected friends or guests drop by. Have these ready in the freezer.
In a skillet, cook bacon, onions and mushrooms until tender.
Add cheese,combine and set aside.
Trim crusts from bread and flatten slices slightly with rolling pin.
Spread each slice with approximately 2 Tbsp of mixture.
Roll up jelly roll fashion and secure with toothpicks.
Place seam side down on parchment lined baking sheet.
Cover and chill for at least 1 hour or freeze in a single layer.
Place frozen roll-ups in a sealed bag and return to freezer.
Let frozen roll-ups stand at room temperature for 30 minutes before baking. Brush rolls with melted butter.
Bake in a 375*oven for 10-15 minutes or until lightly brown.
Remove toothpicks and slice in half.
Serve warm.