PaulaG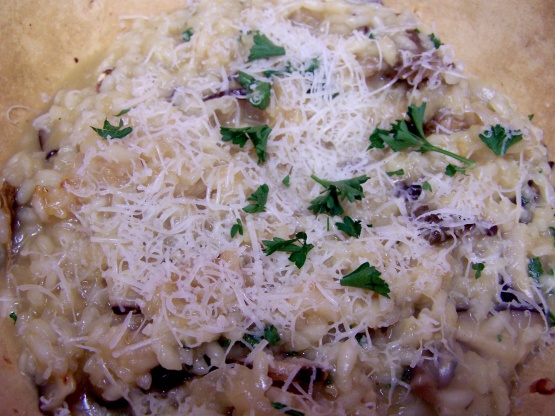 Magnifico!! From Food & Drink magazine - the Best of a Decade.

It's been a long time since I made risotto and, when I saw this recipe was prompted to try it. It is indeed an excellent risotto and went over well with my family, even my grandson who is reluctant to try new things. Made a couple substitutes...dried shitaki mushooms, medium grain Calrose rice (couldn't find Arborio in the grocery store) and a mixture of parmesan/ romano/ asiago cheese. Was a bit concerned about the medium vrs short grain rice, but it turned out just fine. Thank you Country Lady. I'll make this again!
Pour boiling water over dried mushrooms in a bowl& let sit for 30 minutes.
Drain mushrooms; reserve both mushrooms& liquid separately.
Remove stems from fresh mushrooms& slice.
Heat oil& butter in skillet over medium-high heat; add garlic& fresh mushroom slices.
Saute until mushrooms excude their liquid; saeson with salt& pepper.
Cover& leave in skillet for reheating.
Bring stock to a simmer on the back burner.
Heat oil& 1 tbsp of the butter in a heavy pot over medium heat.
Add onion& saute for 3 minutes or until softened.
Add rice& saute until it is covered with oil.
Pour in wine& simmer steadily until it has been absorbed by the rice.
Pour in mushroom soaking liquid& dried mushrooms; stir and cook until most of the liquid has been absorbed by the rice.
Add 1 cup of stock; cook& stir until most is absorbed.
Continue to add stock in 1 cup increments, stirring most of the time, until the rice is creamy with a slight bite in the center, about 20 minutes.
Reheat mushrooms in the skillet& stir into rice.
Remove from heat, stir in remaining 1 tbsp butter& Parmesan cheese.
Season with salt& pepper and serve immediately.