Chickee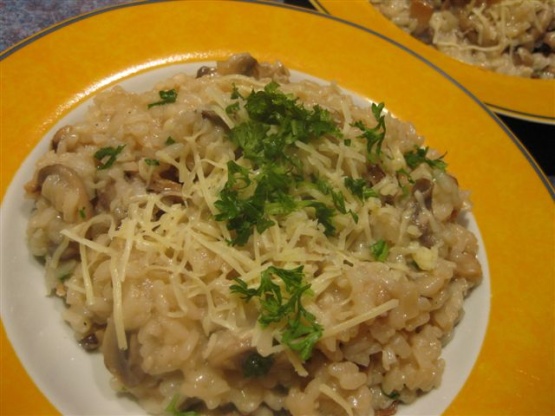 I found this at another web site and after making a few adjustments decided to post it. It is very simple and easy. You choose the type of mushrooms you would like to use. I used dried shiitake that had been reconstituted. Delicious!

I used more mushrooms, to use up 2# I got at Costco, and more chicken stock. 28 oz store bought and some leftovers from Recipe #118258, (about 5 cups stock) Not my first time making risotto so I made sure to heat extra broth, and glad I did. Drizzled with truffle oil. Thank you for posting PaulaG.
In a medium size saucepan, place the chicken broth and saffron.
Bring to a boil, remove from heat and set aside.
In another saucepan, melt the butter with the olive oil and sauté the mushrooms for 5 minutes.
Add the rice; cook and stir until golden.
Add the heated stock 1 cup at a time, simmering and stirring occasionally until each cup is absorbed.
After last cup of stock has been added, cover the saucepan and allow to simmer stirring frequently until rice is creamy and stock has been absorbed.
Adjust the seasoning to suit your personal taste, add parsley and stir well.
Top with grated cheese and serve.