Rita1652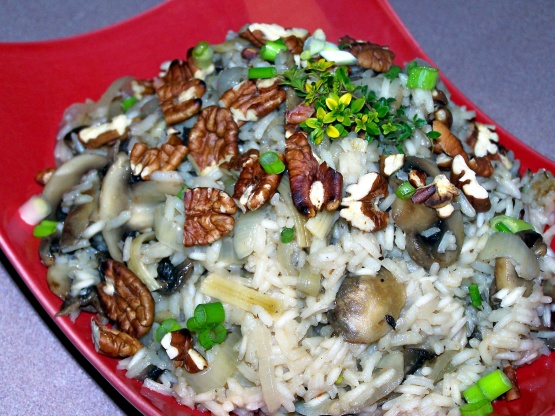 This nice side for chicken or steak has rice, pasta, onions and of course mushrooms.

This is such an easy recipe, SO delicious, and it reheats well in the microwave (always a plus when life's hectic, and when isn't it?) so it's great for take-to-work lunches, all reasons why I will be making this often. I made it with orzo rather than spaghetti, I added 3 cloves of chopped garlic to the onions and I used some of Chef Kate's delicious Roasted Vegetable Stock Recipe #143292 instead of the beef stock. Totally yummy! Just love mushrooms cooked with thyme. This dish would be particularly good on a winter's day. I made a double quantity so that I had enough to make a batch of Risotto Cakes Recipe #133300, which will be great for easy lunches with salad over the next few days. Thanks for sharing!
In butter, sauté mushrooms, onion and spaghetti noodles until noodles are browned.
Add beef broth, rice and thyme sprig. Bring to a boil; reduce heat and simmer until all liquid is absorbed, about 20 minutes.
Remove to serving bowl discard thyme & season with salt & pepper and garnish with pecans.
For Vegetarian use the water not the beef broth.