Sageca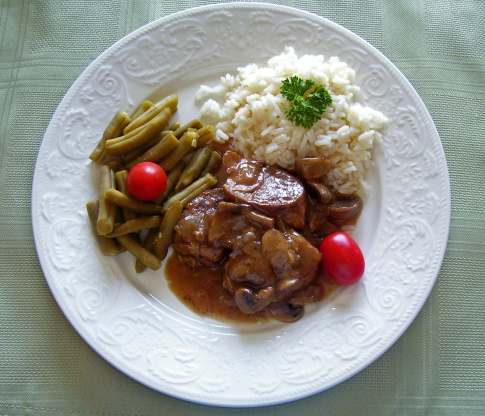 Seasoned with garlic, marjoram and a bit of lemon juice, this tender pork entree comes together easily...you can even make the mouth-watering gravy in the same skillet.

This is a winner. Being out of marjoram, I substituted a tablespoon of fresh, chopped sage (pork and sage are such good friends.) Due to personal taste, next time I'll cook it less. I like pork "caught" at 140° with an instant-read thermometer, then allowed to sit and contemplate being eaten until it's in the 145-150 zone. This is a lovely dish with distinct flavors.
Rub pork on all sides with garlic; sprinkle with paprika. In a large skillet, brown the pork in butter. Add the mushrooms, lemon juice, marjoram, salt and pepper. Turn meat to coat with seasonings. Cover and simmer for 25-30 minutes or until a meat thermometer reads 160° and juices run clear. Remove meat and keep warm.
In a small bowl, combine the flour and cold water until smooth; stir into the pan juices. Bring to a boil; cook and stir for 2 minutes or until thickened. Slice the pork; serve with gravy and rice.