loof751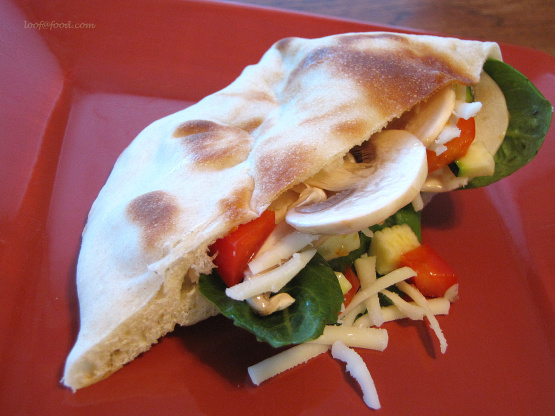 Here is a fresh and crunchy salad filling for a low-fat sandwich. For a totable lunch, pack the salad separately in a plastic container and fill pitas just before eating. Just simply delicious!! I found this recipe in our local newspaper.
12

ounces medum mushrooms, thinly sliced
1⁄2 cup red pepper, diced
1⁄2 cup cucumber, diced
1⁄2 cup green onion, diced
3⁄4 cup old cheddar cheese, grated
3⁄4 cup no-fat herb salad dressing or 3⁄4 cup Italian dressing

4

pita bread, cut in half (6-7 inches in diameter)

8

small lettuce leaves
fresh herb (such as dill, coriander, basil or oregano) (optional)
In a large bowl, combine mushrooms, red pepper, cucumber, onion, cheese. Add dressing. Toss to mix well.
Open pita halves and place lettuce leaf in each pita half. Spon filling evenly into the pita halves. Garnish with fresh herbs if desired.
Variation: Spread 1 tablespoons low-fat mayonnaise inside each pita half.