Boomette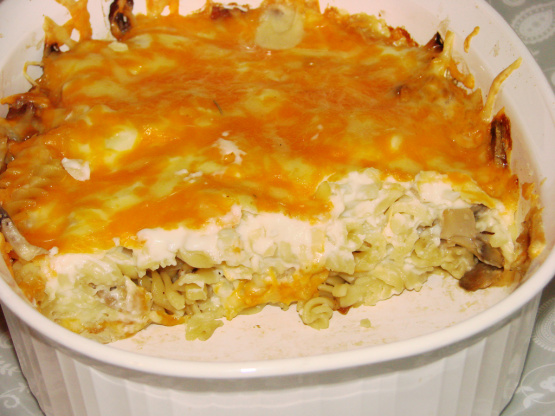 This recipe comes from the wonderful book "Mon premier dîner végétarien" by Alice Hart, which I was gifted for my bday a couple of weeks ago. It makes for a rich, yet not overly heavy pasta gratin that is perfect for entertaining or just for indulging by yourself. :) I made a few modifications from the original recipe and this was the result. I hope youll like it as much as we do. If you like, try other vegetables or herbs and spices to vary this according to your taste.
This is a great dish. It's filling enough and healthy. Great taste. I used a 2 color cheddar cheese on top. It's creamy enough with the cheese in the pasta and the bechamel. I used your bechamel sauce in it. Thanks Lalaloula :) Made for the Australian Swap for December 2011
In a frying pan heat the olive oil over medium heat. Add the sliced mushrooms, onion and garlic. Fry until slightly browned. Add sage, rosemary, black pepper and chilli powder. Set aside.
In your baking dish (it should hold about 1.5 l/6 cups) combine mushroom mixture, pasta, mozzarella and camembert.
Pour the béchamel sauce over it and sprinkle with the shredded cheese.
Bake in the pre-heated oven at 180°C/350°F for about 30 minutes or until nicely browned on top and sauce is bubbling.
Allow to cool for 5 minutes before serving.