Mushroom, Parmesan and Basil Muffins
JustJanS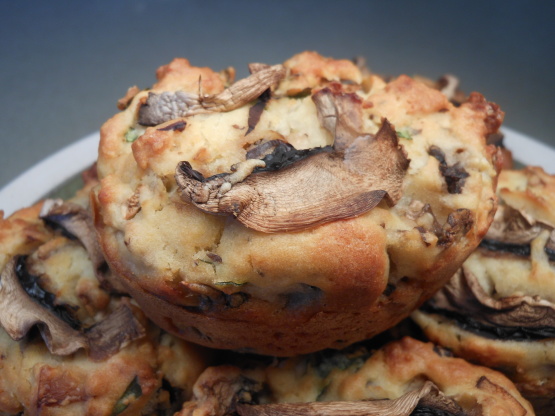 Yummy savoury muffins off an old recipe card. Good as a breakfast on the run.

These were way, way better than I even expected. I like my mushrooms well cooked so was a bit concerned throwing raw, diced ones into the mix-I needn't have worried-they cookd up just GREAT! We had friends turn up as they came out of the oven and the four of us just stood at the ben with a slab of butter and ate them off the cooling rack. Lots of Mmmmms and Oooooos and not much conversation until about 12 of them had been eaten. I was lucky to rescue a few to photograph. Friend went home with the recipe! We all thought a bit of cooked onion and bacon would be nice in the mix for a change, but they were perfect as is!
Preheat the oven to 200 degrees celsius.
Line 18 muffin holes with paper patty pans.
Whisk the milk, egg and oil in a jug.
Sift the flour into a bowl and add the cheese, basil and mushrooms.
Make a well in the centre and gently pour in milk, egg and oil mix and fold gently to combine (the batter should still be lumpy).
Divide the mixture between the 18 paper patty pans and top with slices of the extra mushroom.
Bake for 20 to 25 minutes or until a skew inserted through the centre comes out clean.
Transfer to a wire rack to cool.