Bergy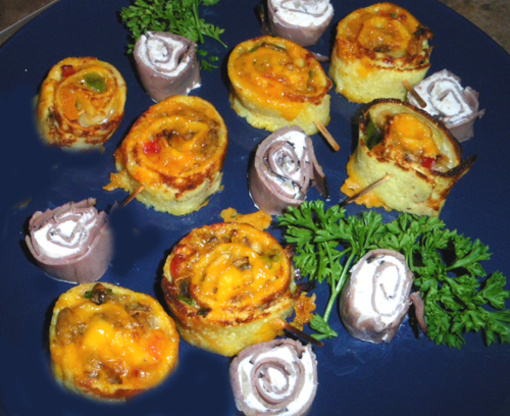 Impressive looking sliced omelette!! Looks great on a brunch table, or just served with toast. Pass the salsa to top it. adapted from Canadian Living mag.

Top Review by Bergy
What an attractive way to serve an omelette! The thyme gives just a little extra bit of flavor. One thing I did was to use a bakers sheet (that thingamabob that prevents things from browning too much on th bottom) under the jellyroll pan so the omeletter would not cook too much on the bottom and i removed it from the oven as soon as the omelette was firm on top. I used parchment paper which came off like a breeze. I chopped the mushrooms and peppers quite finely to facilitate the rolling. The finishing touch with the cheese over top & broiled gives wonder eye appeal Another winner Derf Thanks New Year 09-10 Made this again cutting it back to 7 appies. Because I was making so few I cooked the omelet in a pan, Took it out very carefully, made the roll, wrapped it in plastice and put it in the fridge all day. Then I cut the roll, fastened each piece with a tooth pick, turn each on it's side, put cheese on each piece and broiled for apprx 7 minutes just before serving. WONDERFUL Oh I added some roasted grlic. It's a winner Der!
Line bottom of 13 x 9 inch metal cake pan with parchment or waxed paper; grease paper and sides of pan.
Set aside.
In bowl, whisk together eggs, milk and salt, pour into prepared pan.
Bake in 400f degree oven for 10 minutes or until centre is firm when touched.
Meanwhile, in nonstick frypan, heat oil over medium high heat; cook red pepper, mushrooms, thyme and pepper, stirring often, for 5 minutes or until mushroom liquid has evaporated.
Stir in onions.
Invert egg onto work surface; peel off paper.
Sprinkle with half of the cheese; spread mushroom mixture over top.
Starting at narrow end, roll up jello roll style.
Return omelette roll to cake pan; sprinkle with remaining cheese.
Broil for 3 to 5 minutes or until cheese is bubbly.
Slice crosswise to serve.