Bergy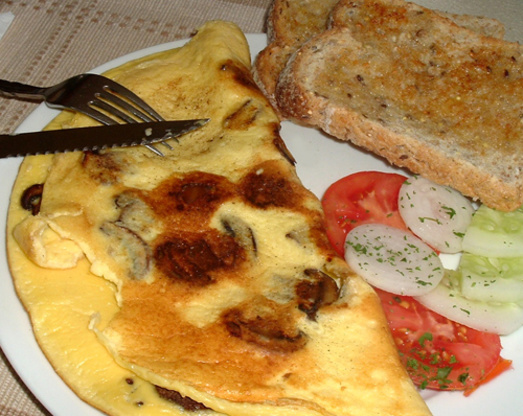 Another recipe I would like to try from Stephanie Alexander - cooking South West France

Delicious. I didn't follow the directions exactly as they were a bit confusing. I used all the requested ingredients down to the sea salt but guessed at the gram amounts using very fresh mushrooms and salted butter as that is what I had on hand. I continued as stated until step 5 and then just added the lightly beaten eggs to the same cast iron frying pan and covered over quite low heat until done. I may make this omelet again. Made for PAC Spring 2010.
slice or quarter mushrooms.
heat 25g butter add mushrooms and cook until not moisture in pan.
strain mushrooms returning any juices to pan and saute garlic for 30 seconds.
then add mushrooms and toss
season and add parsely.
keep warm.
whisk egg lightly and season.
in 26 cm pan heat all but 1 teaspoon remaining butter moderate heat until foaming.
tip in egg and tilt so covers pan.
drag cooked edges to centre with wooden spoon and tilt pan to allow egg to run to edges.
sppon mushrooms into centre give it 30 seconds.
push pan away from you causing omlette to start to flip and finish flip with spatula.
skim browned surface with last teaspoon butter and divide at table.