chia2160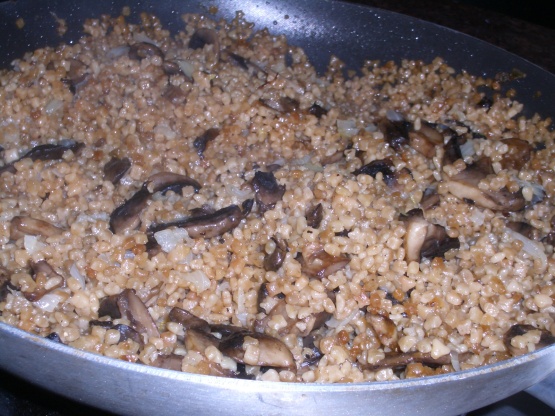 i guess this is considered a jewish dish we've eaten forever, i can't believe i didn't post this years ago. toasted noodle barley is a pasta that is barley shaped, you can find it in the kosher section of your supermarket, usually with the manichewitz products.

Thank you for this recipe, chia! It was easy to make and delicious and I'll certainly make it again. I made it with homemade chicken stock and probably double the number of mushrooms - and I used several different mushrooms, including some Swiss browns - because I love mushrooms. The leftovers also heated successfully next day in the microwave.
heat a saute pan on hi, add 2 tbsp oil , swirl in pan, add onions, stir.
stir again after 2-3 minutes, add mushrooms and garlic, saute until softened, stirring after a few minutes.
move to the side of the pan, add 1 tbsp oil and add toasted noodle barley,.
cook on hi heat until coated on both sides and starting to sizzle.
add thyme, salt, pepper, and broth.
bring to boil, cover, lower heat and simmer for 10-12 minutes, mixture should dry when it's done, like kasha.