Mushroom Kabob Appetizers
megs_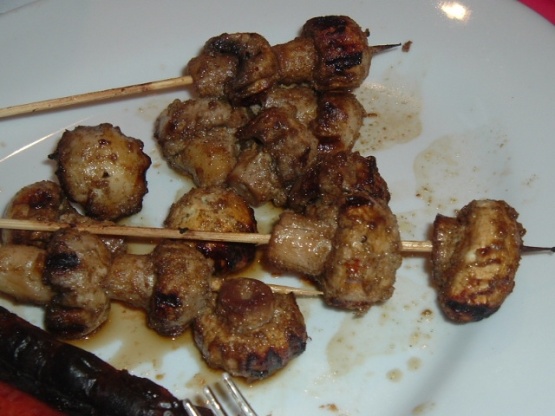 A nice low-sodium appetizer if you have a grill. Use more thyme if you like; I particularly like thyme but other herbs could be substituted. Serve the mushrooms by themselves or with some of the marinade as dipping sauce. Cooking time is marination time.

You and I must love the same flavor profiles. I believe your Lebanese salad was the first thing I ever rated. It has become a staple at my house, and so will those mushrooms. I wish I discovered this recipe at the beginning of the summer, because I don't think I can get enough of it before the grilling season ends.
Combine marinade ingredients and marinate mushrooms at least an hour.
String mushrooms on skewers and grill, basting with marinade, until lightly browned.
Remove from skewers and serve.