Prep 25 mins
Cook 20 mins
From a little old cookbook called "Virginia Seasons." My written notes at the top of this one say, "Wonderful!" I last made it in 1994 -- time to make it again!
Directions
Slice mushrooms and saute in olive oil in small skillet over medium heat until just tender. Remove to a small plate and set aside.
Add spinach to skillet, over medium heat, and season with salt, onion, garlic. Stir and cook a few minutes.
Lightly butter a 9" pie plate.
Line pie plate with cooked spinach.
Top with mushrooms.
Drizzle melted butter over.
Top with cheese and pepper.
(Can refrigerate at this point, covered. Bring to room temp before baking, if made ahead.).
Bake uncovered at 350 for 20 minutes until sizzling.
Reviews
Most Helpful
Made half a recipe using fresh spinach and swiss cheese.

Attention Mushroom Lovers! This is a fantastic side dish (that I could probably eat as a main dish)! It is buttery goodness in a pie plate. Thanks for sharing this excellent recipe!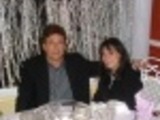 Without a doubt one of the best side dishes of all time. Thank you so much for sharing this simple, yet very tasty and impressive recipe.