Prep 15 mins
Cook 12 mins

I just discovered these Flatout breads in the grocery store and felt like making pizza one night but didn't want the heavy dough pizza. This hit the spot.
Directions
Preheat oven to 400.
Place the Flatout on a baking sheet Spray top side with cooking spray.
Bake for 7 minutes. Remove from oven.
Put all your goodies on the Flatout.
Bake again for 5 minutes or till cheese melts.
Reviews
Most Helpful
I had some leftover cooked baby portabella mushrooms which I used instead of the canned, and did not have sunflower seeds. I was so happy to find the specified flat wrap, which I had to watch carefully so it didn't burn. I found the onion and garlic did not really cook that well, so I would want to at least sweat them before I added them to the pizza next time. Overall, this made for a tasty and guilt-free lunch! Thanks for sharing.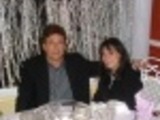 A really enjoyable lunch, I used a wholemeal/wholegrain flat wrap, fresh field mushrooms, french enschallot finely sliced and for the base I made up a pizza sauce using tomatoe poste, finely chopped basil and minced garlic and used a teaspoon of this on the wrap and smothered with a pizza cheese blend (mozzarella, parmesan and cheddar) and baked in a 200C fan forced oven for 10 minutes and got a lovely crispy crust with a lovely brown topping of melted cheese. Thank you nemokitty, made for 123 Hits tag game.

These little pizzas make a nice quick lunch! I didn't add the sunflower seeds and added a sprinkling of crushed red pepper flakes. Great recipe to keep around for a quick hot lunch or light dinner - thanks for sharing it!