ImPat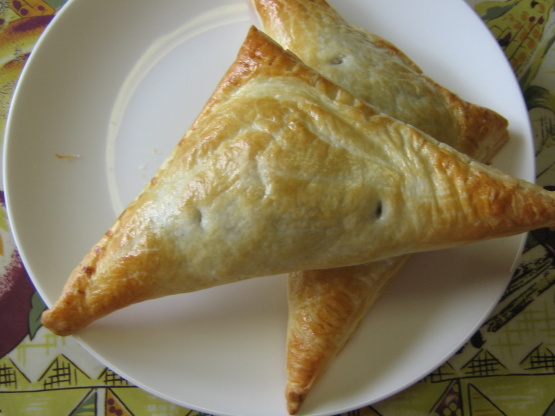 This is a delicious variation of the popular turnover-style pastries. A splash of sherry intensifies the mushroom flavor and turns these easy pastries into a gourmet treat.

Top Review by ImPat
Very tasty morsels. I scaled the recipe down to 5, due to allergy reasons subbed spring onion/scallion for the onion and as we don't get refrigerated biscuits here in Australia I used a sheet of puff pastry which I cut into 4 squares (didn't have the right size cutter to make a circle) and justed brushed with a little mixed up egg and baked for 14 minutes. The DM enjoyed her 2 with a little B-B-Q sauce to dip them into and I had mine with a side salad for a light lunch. Thank you morgainegeiser, made for Edition 6 - Make My Recipe - a game of tag.
1

teaspoon vegetable oil

12

ounces mushrooms, finely chopped
1⁄2 cup very finely chopped onion
1 1⁄2 tablespoons flour
1 1⁄2 tablespoons sherry wine
1⁄8 teaspoon salt
1⁄8 teaspoon pepper

1

(10 ounce) container refrigerated biscuits
Heat oil in a medium nonstick skillet over medium heat. Add the mushrooms and onion. Cook, stirring frequently, until most of the mushroom juices have cooked out, about 4 minutes. Sprinkle with flour, stirring to mix well.
Stir in sherry, salt and pepper. Cook and stir until mixture is almost dry, about 2 minutes. Remove pan from heat and set aside to cool slightly.
Preheat oven to 400 minutes.
Have an ungreased baking sheet ready. Separate biscuits and place them between two sheets of waxed paper severl inches apart. With a rolling pin, roll biscuits into 4 to 5 inch circles. Carefully remove the top sheet of wax paper.
Using a heaping tablespoonful of filling, place slightly off-center on each circle. Carefully fold biscuits over, making a half-circle and stretching the dough gently over the filling. Crimp the edges together with a fork. Place pastries on baking sheet.
Bake 8 to 10 minutes, until golden brown. Serve hot or at room temperature.