Mushroom Duxelles and Pate Platter With Sliced Baguette
Jostlori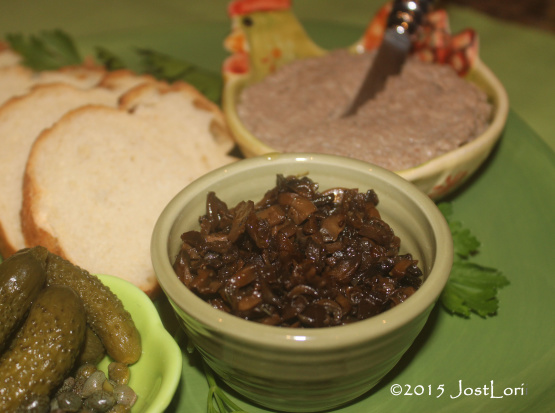 Serving a French meal? Why not start out with an easy appetizer platter! This recipe is by Rachael Ray.

Wonderful! The mushroom duxelles was tasty and rich! Instead of dry sherry, I used a sweet sherry and it gave the mushrooms a lovely intense flavor! This made a beautiful appetizer plate, and will definitely be making this again! Thank for posting! Made for Culinary Quest by a Toasted Tourist.
Heat a skillet over medium heat. Finely chop the mushrooms in a food processor. Add oil and butter to the skillet, then shallots and mushroom bits. Season with ground thyme, salt and pepper and saute until the mushrooms are deep brown, about 6 minutes. Deglaze pan with the sherry.
Transfer this mushroom duxelles to a serving dish and place on a platter alongside the storebought pate. Garnish tray with sliced baguette, cornichons, capers and a sprinkle of chopped parsley.
Enjoy bread rounds with a slather of pate topped with mushrooms.