KateL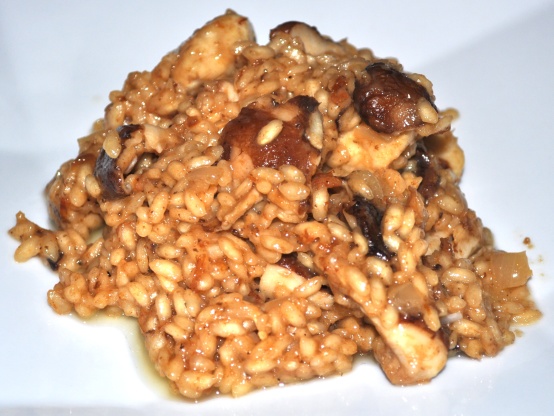 My all-time favorite comfort food recipe. I don't really measure anything when I cook this, which means you really can't make a mistake. However, I have listed measurements to provide a starting point for preparing this recipe. This is not difficult to make, it does require that you be very attentive when it is cooking, it has to be stirred constantly.

Top Review by KateL
Very earthy risotto. I had to downsize this to 2 servings because DH doesn't care for risotto. I wish I had a small Dutch oven, I used a heavy saucepan. One thing I learned: if downsizing, don't cut the oil back proportionately. I used chicken tenders which were easy to cut in 1" cubes and fresh shiitake mushrooms. It would help if the ingredients were listed in order of use; I annotated the directions with the amounts so I could keep track. Made for Spring 2014 Pick A Chef.
Pour chicken broth into a saucepan and heat on low. This will be simmering while you are preparing the dish.
Combine flour, salt, pepper, and garlic.
Dredge chicken in flour mixture.
Heat oil in heavy dutch oven.
Add chicken and mushrooms. Brown for 5-10 minutes. Set aside and cover to keep warm.
Add onion and cook 3 minutes, until translucent.
Add arborio rice and wine and heat through.
Begin adding warmed chicken broth to rice and onion mixture. A ladle is helpful in this part.
Add 1/2-1 cup broth at a time. Stir continuously. This part is very important, you must keep stirring or it will stick.
As the broth is absorbed continue adding more broth until you have used the entire saucepan. This may take 15-25 minutes.
After all the broth has been added, taste the rice. If it is not done (still with some bite in the center), add water until it is cooked.
Stir in the chicken and mushroom mixture.
Add butter and parmesan cheese and stir until melted.
Serve with asparagus or a fresh green salad.