Mushroom Chicken (For the Grill)
diner524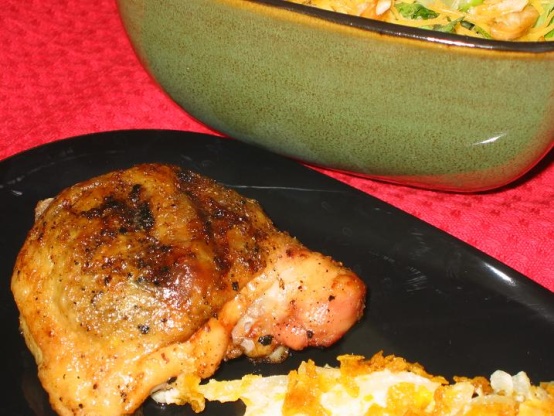 From Better Homes and Gardens. This looks so great, I bought all the ingredients and I'm waiting for the opportunity to make this. Looks pretty easy.
Wow!! What a fun and different way to make grilled chicken. I was only cooking for two of us tonite, so I cut the recipe in half. I used the soy sauce and optional marsala wine. Instead of serving it with the lemon halves, I melted 1 tablespoon of butter and mixed in the fresh lemon juice. I then basted the chicken a few times while grilling with the butter. The only other change I made was to use seasoned salt and pepper. Thanks for another great recipe!!!! Made for PAC.
In skillet cook mushrooms,garlic, and oregano in hot olive oil over medium heat for 6 minutes or until tender, stirring occasionally. Remove from heat. Stir in Marsala, soy sauce, salt, and pepper. Return to heat; cook and stir 2 minutes more. Remove from heat. Cool.
Loosen skin on each piece of chicken on one side. Stuff mushroom mixture under skin. Sprinkle lightly with salt and pepper.
For charcoal grill, arrange medium-hot coals around drip pan. Place chicken, bone side down on grill rack over drip pan. Cover and grill 50-60 minutes or until chicken no longer pink. (170°F for breasts 180°F for thighs and drums). For gas grill, preheat grill. Reduce heat to medium. Adjust for indirect cooking. Place chicken on grill rack; grill as above.
Serve with fresh lemon and oregano sprigs.